Apple's shares have skyrocketed to almost $700 each today, after they announced pre-orders of the iPhone 5 have reached in excess of 2 million units!!! Comparing this to the iPhone 4 which obtained 600,000 pre-orders and the iPhone 4S of 1 million – this is HUGE! What is more, the company's shares have risen over 70% this year… WOW!
Furthermore, analysts have predicted that Apple could sell 10 million units by the end of the month and 50-60 million by the end of this year!
Consider Apple's stock over the last 10 years: (if you are new to investing, not many company's stock charts look like this)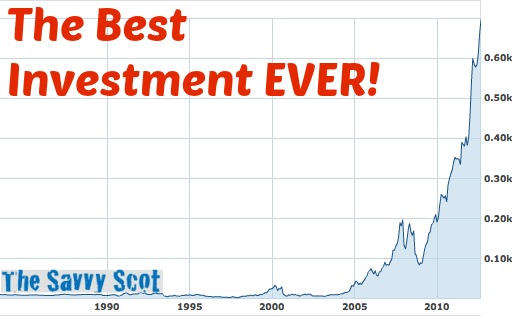 September 2002 – $7.25 per share
September 2012 – $696.25 per share
To put this in perspective, if you invested $1000 in Apple ten years ago, you would have $96,034.50 today – a gain of 9600%!! Not bad huh? The question is, where does it stop? If you had stock in apple back in 2007 / 2008 you might have thought that the drop that was to come would finish apple. Oh how disappointed you would have been if you sold your shares.
You need an awful lot of money in the first place to invest in a company like apple when an ordinary share is priced so high.
I know of a guy that put £10k into Apple 10 years ago… that was the best investment decision EVER!
What do you guys think? Will Apple top $1000/share like analysts predict?