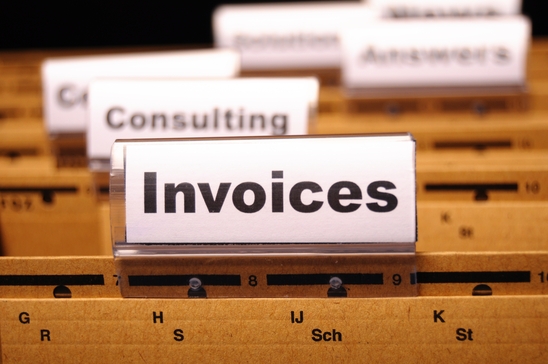 Congratulations! You decided to start your own business. Every would-be entrepreneur knows that in order to succeed in business you must start asking for money. One of the ways you can do that is by invoicing your clients. There are many ways to invoice your clients for your products and services. You can:
1. Send forms electronically through your client's email.
2. Print and send forms via Mail.
3. Automatically bill your client through a payment service.
Record Keeping for Tax Purposes
As business owner, consultant or other entrepreneur it is important to keep good records of your expenses and your revenue. Invoices help you keep accurate records of transactions. Your invoice needs to include:
1. The item(s) purchased
2. The value of each item including price
3. The taxes and fees incurred-sales and VAT taxes
4. Contact information of customer or vendor
Keeping Track of Your Inventory
Invoice software can help you keep track of your inventory. It is important to have accurate counts of inventory so you can keep your customer happy. You can also keep track of expenses incurred maintaining your inventory by setting up an automatic invoicing software system.
Forms help you:
• Understand what you currently have in stock
• How many items you have sold
• Understand how much money you'll receive for your goods and services
• When you need to restock items that are out of stock or low
Figuring out what you have in stock, what items are most popular and making sure you keep your customer happy is what forms are used for in a business.
Reminders and Late Notices for Payment
You are going to have some customers that are late in making payment for services rendered. These customers need reminders that they need to pay you. Forms are a visual reminder to the customer about the services you performed for them. Forms also help jog memories and prod customers to pay you.
You can also show late fees, interest accumulated for non-payment and set an arrears date for payment. For many businesses the arrears date is the date where the bill can be turned over to a collection agency for payment.
Setting Up a Recurring Payment Cycle
Regular customers expect forms for the products and services they use on a regular basis. Forms can reflect that recurring payment cycle so both you and your customer can have a record of regular purchases. It also helps establish a good relationship to know that the customer can expect the products and services to be rendered promptly.
It helps you to know to expect that recurring payment from your customer and act accordingly. Automatic invoicing cycles provide you with a solid pattern that you can track.
Providing Multi-Currency Exchange Rates and Taxes
If your business is global, forms just make it easier to see what you're paying internationally compared to domestically. You will also want to know what taxes will need to be taken out for products and services overseas.
Your overseas customers will appreciate having forms that reflect their currency. It is important that you and your customers have a clear understanding of the country's tax rates. Misunderstanding of tax rates just might make you lose business. Showing exchange rates is a helpful consideration when purchasing products and services overseas.
Providing Information in Native Language
Forms can provide information about your products and services in the customer's native language. They can explain what the person should be receiving and the costs in a clear concise manner.
Setting Due Dates for Payment
It is necessary to set due dates so your customers don't take advantage of you. You can set due dates so that the customer can get a discount for paying early or provide other incentives for payment on time. Setting due dates will also allow you to penalize customers and charge late fees. You should clearly state penalties incurred with non-payment.
Keeping A Record of Payment and Receipts
This is probably the most important use for forms. Just like you need to keep track of your inventory, you also need to keep track of your payments for services rendered. Businesses that keep accurate records of their expenses will do better in the long run than businesses that don't keep track.
Forms play a critical role in determining profit and loss. They help you:
• Have a clear understanding of your expenses
• Have a clear understanding of your revenue
Attract New Customers and Promote Your Business
This is probably a little known fact. Customers respond favorably to forms that provide a clear and precise accounting of items purchased and have contact information clearly stated. Customized forms provide customers with the means to interact with your business in a visual format.
There are many ways you can attract customers with your company's forms. You can have:
• Bold font with contact information
• Your company's logo
• Links and easy ways for customers to pay you electronically
• Attractive colors that make your forms stand out
As you can see, forms can be used in a variety of ways in business. The core element in producing forms is to prompt people to pay you for your products and services. Forms provide a clear way for you to connect with your customers, maintain good relationships with your customers and keep track of all payment schedules.
For both large and small businesses, the ability to track inventory is critical to their success. It is equally important to know where your money is going and to be able to track your expenses. It is important to note that form software helps you keep track of both accounts receivable forms and accounts payable forms.
With customized forms you can reward loyal customers with discounts and keep track of their spending. Without that ability you can only depend on people to pay you upfront for your products and services.