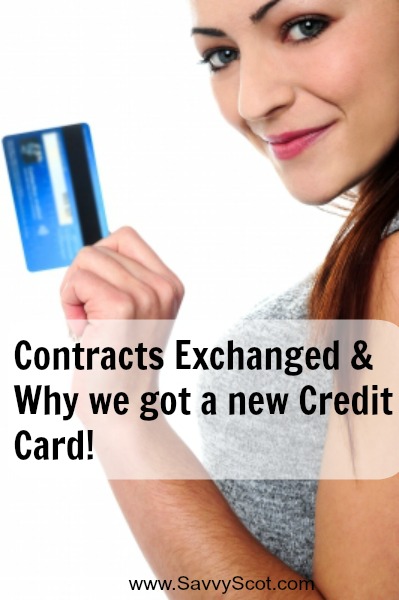 Good morning everyone; hopefully we are all having a great weekend. I am aware that I have been quiet for the last few days but for a good reason – WE HAVE EXCHANGED CONTRACTS!! 😀 – Our new house is officially ours! We get the keys next Friday – officially the last day of the UK government's stamp duty relief to first time buyers. (We save on a 1% tax of the house price)! Anyway, as you can imagine; Mrs Scot and I are DE-Lighted!
If you read my earlier post on 'How to Get a 100% L.T.V. Mortgage', you will know that Mrs Scot and I are taking out a 100% Mortgage by using equity from my Dad's house towards a deposit on our new house. To cut a long story short, this unlocks fantastic interest rates; 4.19% Vs 6.99%! Taking in to account our current rent and council tax situation and comparing that to our new mortgage and council tax; it is staggering to think that we are only going to be paying approximately £50 a month more ($75) than what we do today!! Mrs Scot and I have talked through the whole mortgage situation and have decided that we want to pay it off as soon as possible. We are committing to make over-payments on our mortgage, with the intent to pay it off within 10 years. In the mean time, we have to buy furniture, fund our Honeymoon and LIVE! 🙂
We Have Taken Out a New Credit Card
This heading will probably upset 90% of PF bloggers in the world, but let me explain. Mrs Scot and I are young professionals – We both have well paid jobs and are recent graduates. I am due 2 pay rises this year and Mrs Scot works on commission (neither of which we account for in our budget). Given that we have just bought our house and have been living in furnished rental accommodation since we left home (about 6 years ago), we have a lot of things to buy for our new home. We have been fortunate enough that our current rental property is partly furnished, thus it provided a transition period to buy some of our own furniture. We also received some fantastic pieces as a wedding present (like a beautiful bed and various other things). Also, Mrs Scot's parents have a lot of great furniture in storage – excess after moving which we can have 🙂 ! Albeit, there are still some big items that we need to purchase:
Dining Room Table & Chairs
Dressing Table (My Wedding Present to Mrs Scot)
Sideboard
Bookcase
TV Stand
Desk
The above list is by no means exhaustive, (we plan to buy a new corner sofa, TV, BBQ etc.) but these are the immediate priority. Although I am extremely frugal/savvy with money – I believe in buying quality so that you only have to buy once. The above list will cost as a little over £3000 ($4500) but should last a lifetime. Furthermore, if we buy the items together, we can get a great deal from the furniture outlet. I have already started negotiations with one of the sales staff.
Just a side note on furniture outlets etc. – If the outlet has a fancy showroom and a huge team of sales staff in a central location – be cautious. Consider the markup that must be on the products in order to fund these things! You can often go and view the furniture etc. in these fancy showrooms and take a brochure away which details the brand and lines of the furniture and products themselves. It is then possible to check directly with manufactures on prices – and with other outlets in the area (sometimes going direct is not the cheapest). The shop that we are going to be buying from has a very clumsy showroom which is nowhere near as glamorous as other shops. The place is a busy and crammed and looks like a maze – with very few staff. This is a great sign that they are working to lower margins. (I checked their prices online and with other retailers to verify this)
SO – We have taken out a credit card which is interest free on purchases for 15 months. This means that (providing we make the minimum payments) we can effectively buy now and pay later – for free. We will be disciplined and maximise our monthly repayments to take full advantage of the interest-free period.
After all, this method beats any sort of finance scheme that shops can provide – and the furniture will last a lifetime. We will have children at some point in the future, so are trying to take full advantage of our years as DINKYs (Double Income No Kids Yet) to buy nice furniture and pay off our house. I have a feeling we will need a lot more money for other things when that time comes….
I would like some reader input – What are your thoughts? Do you agree with our method of purchasing good quality furniture on an interest free card? Or would you personally buy cheaper furniture now and replace it later?