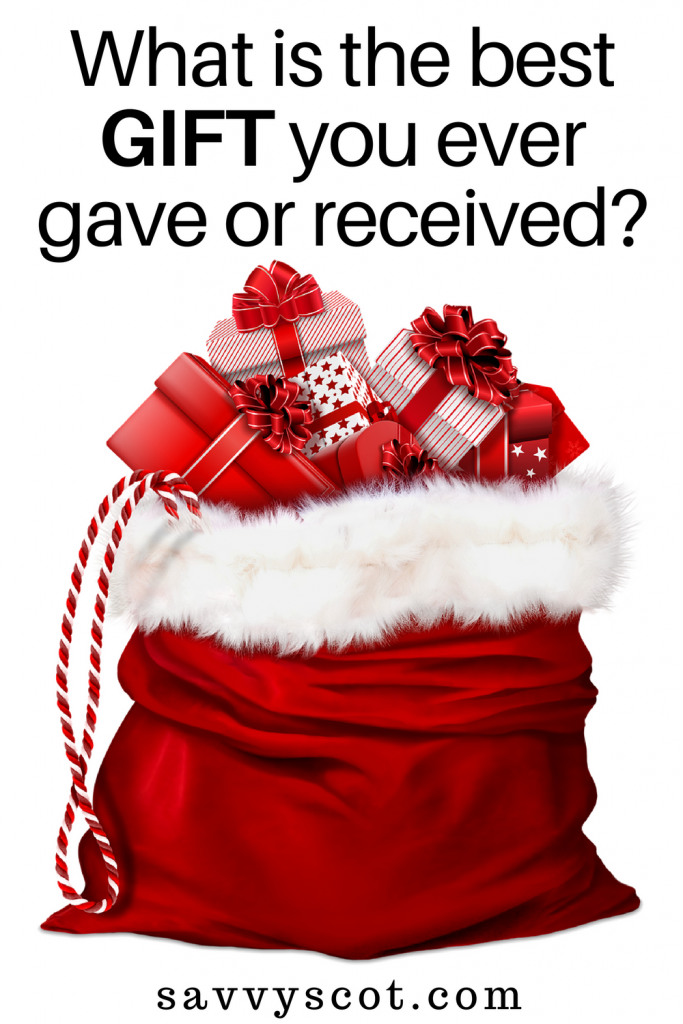 Christmas is fast approaching, and with it the pressure to buy the perfect gift for the ones you love. And sometimes, you just forget about it. So you end up on the 23rd frantically going from shop to shop, and end up buying the most expensive gift out of guilt. Something that will clutter the other person's place and not be remembered.
So will you help me here, and help my readers by sharing the best gifts you ever gave or received, to give us all a few ideas of cool yet affordable and thoughtful Christmas gifts? And remember, for those people who may not be on your list of those to buy gifts for, Hallmark's holiday ecards are a good option.
I'll go first with the best gifts I've received.
The best gifts I received, yes plural, were on my last Christmas before embarking on a one year round the world trip. I had been making lists of stuff I needed for the trip, from a backpack to hiking shoes to flashlight to country guidebooks or even rabies shot, and my family came together to give me many of those things. It was awesome because I really needed the stuff, and would have bought it myself anyway.
That gift idea can be applied to any person who is getting started with a new hobby, or a new job, and needs things to do it. If they are starting fishing, they already have a cane, but how about a fishing hat or shirt? It shows your support their new endeavor, which is also nice.
When I was three, in kindergarten we filled an empty yoghurt pot with cotton, closed it with a colorful piece of fabric and drew a face on the yoghurt to make it look like a person with a soft cotton head and a hat. It was meant to pin your sewing needles while you saw. My mother, who is an avid sewer, still uses it three decades later. It just happened to fit a need for her hobby.
For a new job, I love those cool Swiss Army backpacks that look formal enough to be brought to work, are super resistant and have a padded laptop case, plus some cool gadgets like a little hole to put your iPod inside but have your earplugs out and play music as you walk, and you can take them as a carry-on on a business trip. I got one like that from a boyfriend and was feeling weird as it is not your typical romantic gift, but later realized it was so me, it was perfect and I still use it seven years later.
The best gift I gave was really cheap and easy to make, and I also heard other people being really happy about getting that similar gift not from me, so I know they weren't lying about it. I am really useless with my hands, so when I say I made it, I just selected a few great pictures, and made the whole family a personalized calendar. Why is this the perfect Christmas gift?
1. New Year is just around the corner. People don't have a calendar yet, but it is useful.
2. They can throw it away after a year. Not like Aunt Bree's reindeer sweater you now have to wear every Christmas.
3. It is personalized with pictures of the family and reminders of everyone's birthday. You can't go wrong giving Grandma pictures of her grandkids.
4. The same gift can be given to the whole family. Again, unlike the reindeer sweater, it doesn't feel weird, everyone is happy to have a calendar.
5. They are super cheap. I think they were under $10 each, although you could make bigger ones for a bit more.
6. You don't need to be crafty, yet it is homemade. I suck at crafts, and could make nice jam or something but then the jars would look pretty sad. Clicking on pics on a computer, I can do.
7. You can make it from the comfort of your home. No need to go fight for the last set of gourmet crackers at Macy's.
I also made an agenda one year for my ex who uses one several times a week, so it was a great gift for him, but wouldn't have been for me. The bank gave me a free one with my name engraved that has been gathering dust for month. You can do mugs, coasters and lots of other personalized objects with pictures. Just make sure the recipient will have some use for them. With a calendar, you just pin it in the kitchen or put it on your desk and that's it.
So will you please help me here? What was the best Christmas gift you ever gave or received?